Glasgow Film +85A presents:
CARGO, CAMERA...ACTION!
July 26th 2014
Clyde Amphitheatre - Glasgow
Ladies and Gentlemen... ("Quiet on set please!") Glasgow Film is wonderfully honored to invite you, during Festival 2014 this summer, down to the bonnie banks of The Clyde... for a one day only, monumental performance, where the remarkable 85A Collective will unleash their spectacular
cinematic takeover, and the whole audience shall be transported into a larger-than-life, ocean steamer film shoot, replete with the upbeat global
sounds of dynamic bands and DJs!
"Grab your Bolex and prepare to be flabbergasted, for this July, 'CAMERA, CARGO...ACTION!' is about to set sail!!"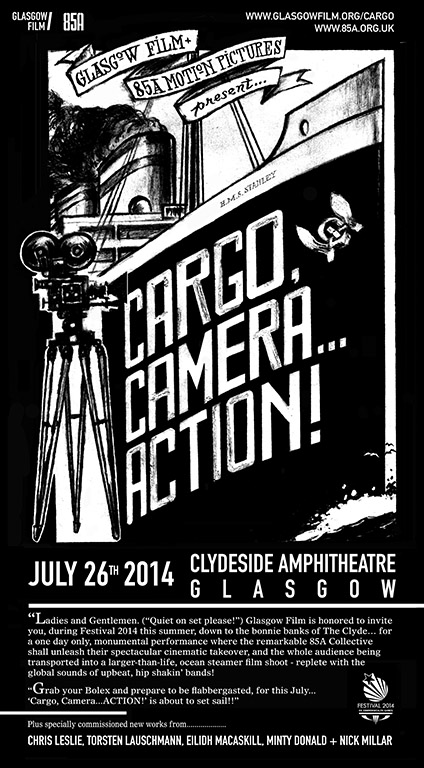 85A presents: 'CHERNOZEM' ///// + RENEGADE MASKERRADE
at SUMMERHALL
Soon to be unleashed within the corridors and chambers of the distinguished Summerhall , the Edinburgh premiere of Judd Brucke's industrial-horror film: 'CHERNOZEM'. Unfurling its black wings over the Eastern coast... casting a cinematic shadow as trenchant and visceral as they come!
Culminating in the provocative 'Renegade Maskerrade', this is no less than an explosive barrage of highly charged live performances, knee-dropping music and blood pulsing DJs... featuring: 'Jacob Yates & The Pearly Gate Lock Pickers' - an hypnotic 'Doom-wop' band of towering rhythm + stentorian sound!
Forthright, an unmissable evening!! PWOOOMM!!!.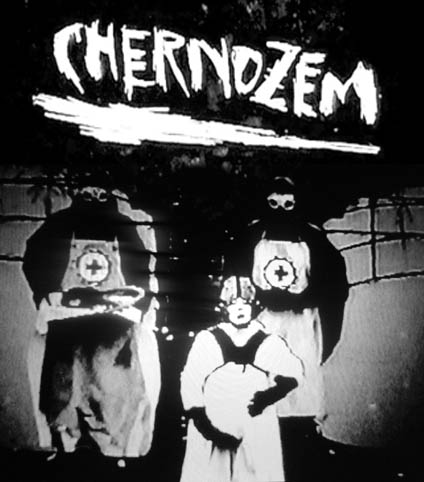 CHERNOZEM:
FILM PREMIERE AND RENEGADE MASKERRADE LAUNCH PARTY
85A unleashed a cinematic barrage with the premiere of 'CHERNOZEM' - Judd Brucke's debut industrial horror film - which kicked off with a dystopian masquerade party at The Flying Duck, then rocketed the audience towards the GFT in a riotous parade - followed by a total rinse-out back at the 'Duck with special guests Golden Teacher. An unmissable night!
***** review by Jac Mantle
(The Skinny)
" what the hell is this joint, anyway? Maybe it's a private club where everyone goes back in time to Weimar Germany, when art was political and genuinely subversive"