The Arches + 85A Collective present
DARK BEHAVIOUR
Friday May 2nd
9pm-3am
A night in three parts. An immersive triptych of masked ambiguity, despair and distortion...
Audience members don your masks and form the carriage of the procession – first journey through the tunnelled vision of Glasgow's artistic outliers, as they unleash movement and spectacle in a barrage of visual performance featuring 
James Stephen Wright, Michelle Hannah, Andrew Houston, Melanie Forbes-Broomes, Cath Whippy & Callum Macaskill! 
Be enveloped by 85A's kinetic interventions, before the throb, break and pulse of the musical headliners; PLANNINGTOROCK, Golden Teacher, Mr.Vast, Neil D, FEM BITCH NATION, Skizzwang and Afrodeesia snatches any frail remnants of identity you care to hold on to. 
 
Dark Behaviour sees The Arches cast through an unforgiving lens as 85A and a cohort of allies wildly embrace each nook of Glasgow's notorious cavern, bathing shadow in shadow. 
COME IN DISGUISE - WEAR A MASK!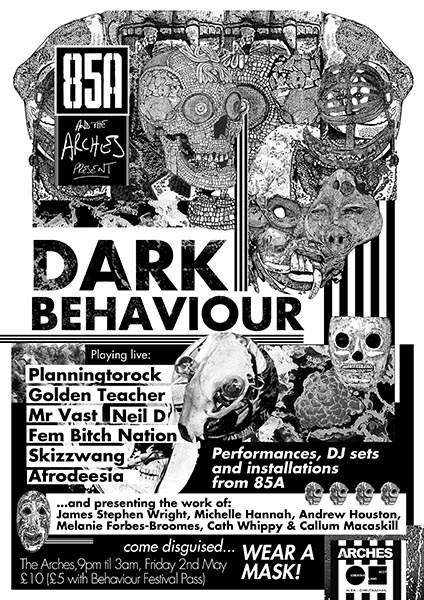 Tickets: £10 - book here
///
85A masks for sale on the night
Glasgow Film +85A present:
CARGO, CAMERA...ACTION!
July 26th 2014
Clyde Amphitheatre - Glasgow
Ladies and Gentlemen... ("Quiet on set please!") Glasgow Film is wonderfully honored to invite you, during Festival 2014 this summer, down to the bonnie banks of The Clyde... for a one day only, monumental performance, where the remarkable 85A Collective will unleash their spectacular
cinematic takeover, and the whole audience shall be transported into a larger-than-life, ocean steamer film shoot, replete with the upbeat global
sounds of dynamic bands and DJs!
"Grab your Bolex and prepare to be flabbergasted, for this July, 'CAMERA, CARGO...ACTION!' is about to set sail!!"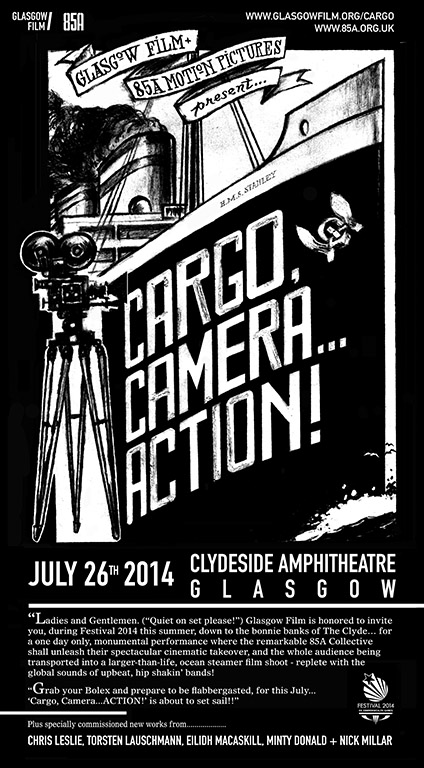 'CHERNOZEM' screening + RENEGADE MASKERRADE
at SUMMERHALL (Edinburgh)
December 6th 2013
The Edinburgh premiere of Judd Brucke's industrial-horror film: 'CHERNOZEM', culminating in live performances, knee-dropping music and blood pulsing DJs... featuring: 'Jacob Yates & The Pearly Gate Lock Pickers'.